RV Solar Inverter Calculator
How to use the RV solar inverter calculator
With so many choices for inverters and inverter/chargers on the market, it can be challenging to determine which one is right for you. We can help you work this out with the calculator below.
Go through and add every electrical appliance you have, their wattages, and whether you'll be using any at the same time – meaning they will run simultaneously. Then answer a couple of quick questions and we'll take care of the rest! 
If you're not sure where to start, learn more about finding the wattage of your appliances here. 
This calculator will account for several factors before recommending the inverter that is best fit for your specific needs. If you'd like to chat with one of our off-grid energy specialists about your results, contact us any time.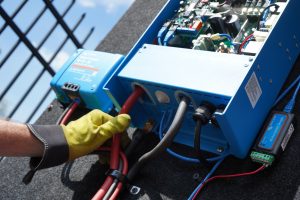 With so many choices on the market, it can be challenging to determine which inverter size you need for your RV or van. By the end of this short guide, you'll know how to make an educated decision when purchasing an inverter.
Read More »
Most people don't think too much about energy consumption, but going off-grid requires planning for how much power you need day to day. Let's start by working out the wattage of your daily appliances.
Read More »
An inverter takes DC (direct current) from a battery bank, and converts it into AC (alternating current) to supply power to common household appliances (like TVs, microwaves, etc.). It's a vital component of any RV or van solar electrical system.
Which inverter is right for your RV or van depends on a number of factors, from the voltage of your battery bank to where you'll be traveling and which appliances you'll need to run at the same time. Inverters and inverter/chargers come in a range of models to account for all lifestyles and system sizes, and we're here to help you find your best fit. 
We want to make sure your solar set-up works for you in real life. That's why doing these calculations ahead of time is so important: freedom on the road should still be comfortable, and this is how we make sure of it. 
Want help with your solar energy system?