Conduct your own RV solar energy audit. Free.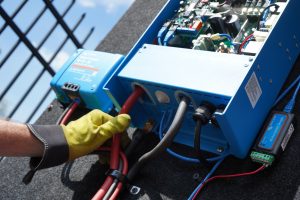 Design & Planning
With so many choices on the market, it can be challenging to determine which inverter size you need for your RV or van. By the end of this short guide, you'll know how to make an educated decision when purchasing an inverter.
Read More »
Design & Planning
Solar charge controllers generally come in two varieties: PWM and MPPT. Let's dig into what these can do, and how you can choose the best option for your specific system.
Read More »
Design & Planning
Wondering about that "solar ready" sticker on your RV? Here's how it can help you get off-grid, and where you might need a little bit more.
Read More »
Want help with your solar energy system?