SALE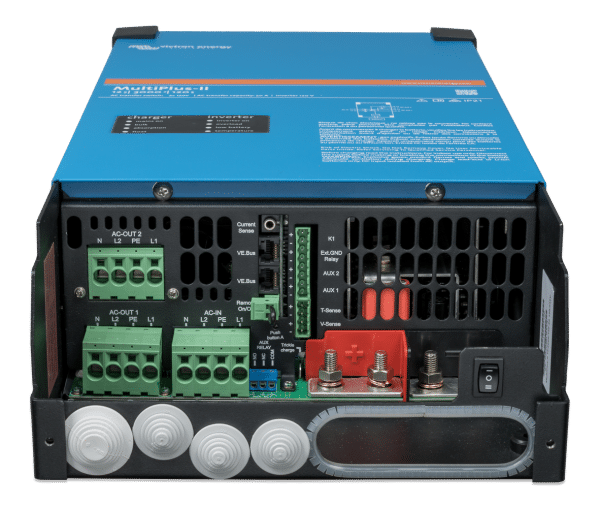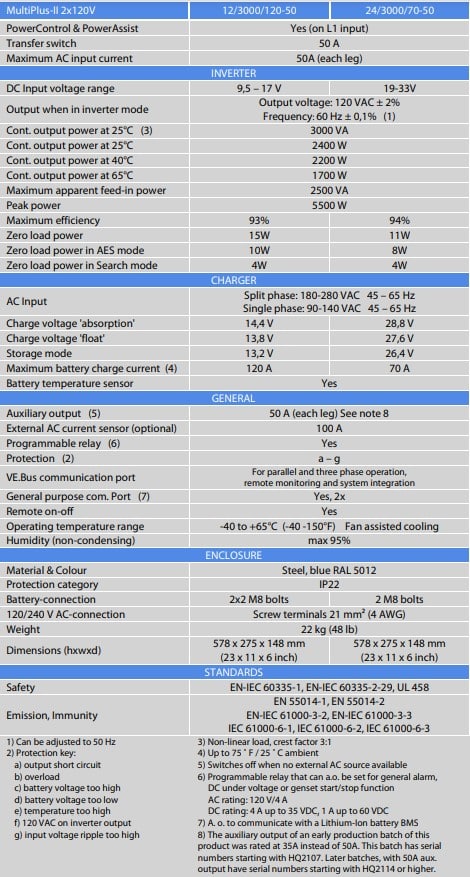 Victron Energy MultiPlus-II 12/3000/120-50 2 X 120V Inverter/Charger
The Victron MultiPlus-II 12/3000/120-50 2x120V Inverter/Charger is a versatile option for 50 amp RVs

It has the ability to pass through and utilize 50 amp split phase while connected to shore power, and can also provide 120v to both sides of the panel while on battery power

With its PowerControl and PowerAssist features, it allows the system to operate on limited shore or generator power without tripping breakers

Up to (6) identical units can operate in parallel to provide split and three phase operations.

The Victron MultiPlus-II can be remotely monitored and configured using a GX device connected to the internet
Which inverter is right for you? Visit our inverter calculator for a personalized recommendation.
The Victron MultiPlus-II 2 x120V is the perfect mobile solution for 50A RVs. Whether it is supplied from shore power or a generator, the MultiPlus-II 2x120V can accept and pass through both lines of a 120/240V supply. With its ability to utilize the full 50A service for charging and AC loads, it makes the MultiPlus-II a perfect choice for any RV or tiny home that requires 50 amp service.
Integrated 20ms high speed transfer switch

Power assist for use with generators or limited shore power

Integrated 120 amp adaptive charging

Integration with GX devices

Capable of being used in parallel operation. Up to (6) units.

Compatible with the full line of Victron integrations and monitoring
The Victron MultiPlus-II is perfect for larger RVs and tiny homes. Rated at 3000VA (or 2400 Watts Continuous), it has the power to operate everyday appliances from induction cooktops and refrigerators to TVs, coffee makers, and much more.
Note: In order to program Victron inverter/chargers to work with your particular batteries, you must have an MK3-USB interface, or GX device, such as the Cerbo GX.
| | |
| --- | --- |
| Weight | 48.5 lbs |
| Dimensions | 22.7 × 10.8 × 5.8 in |