SALE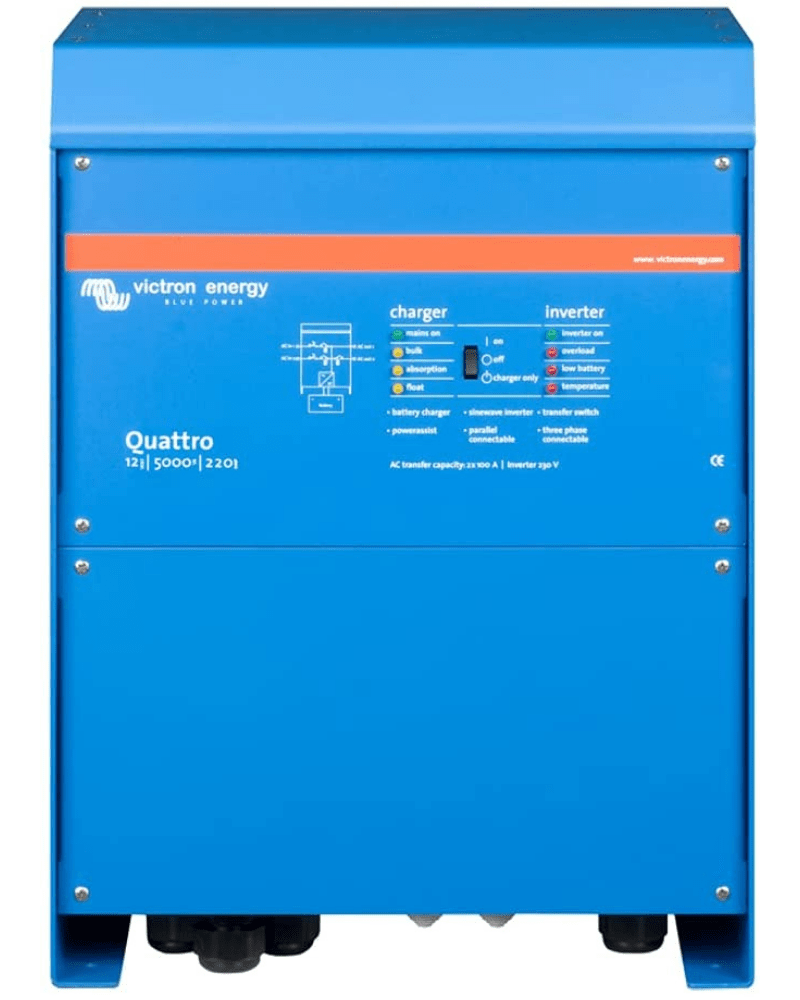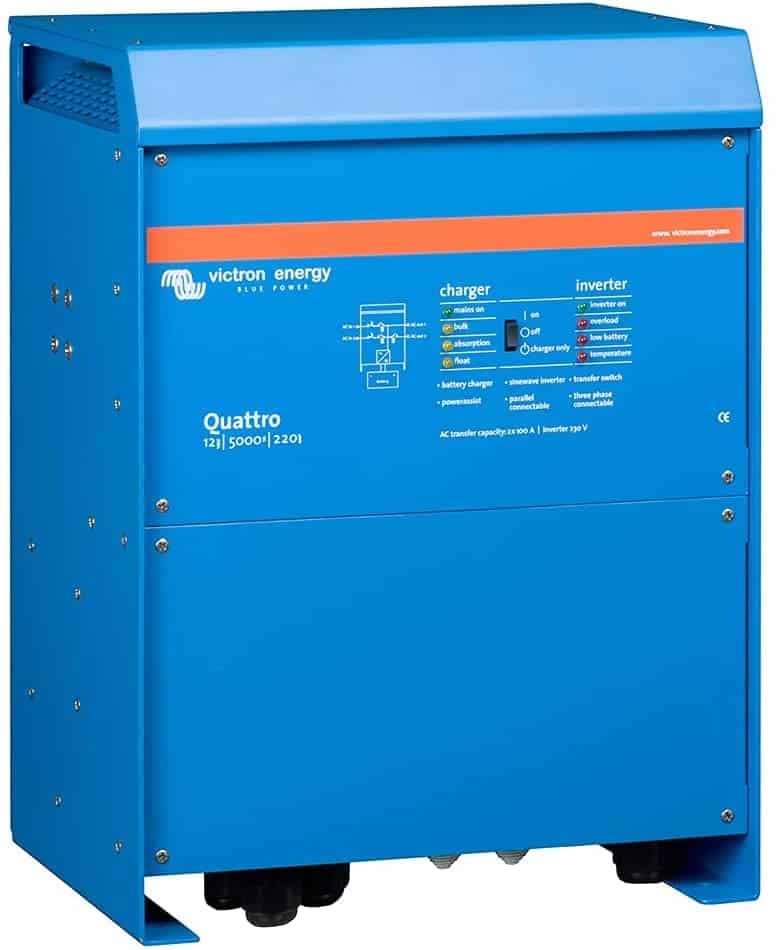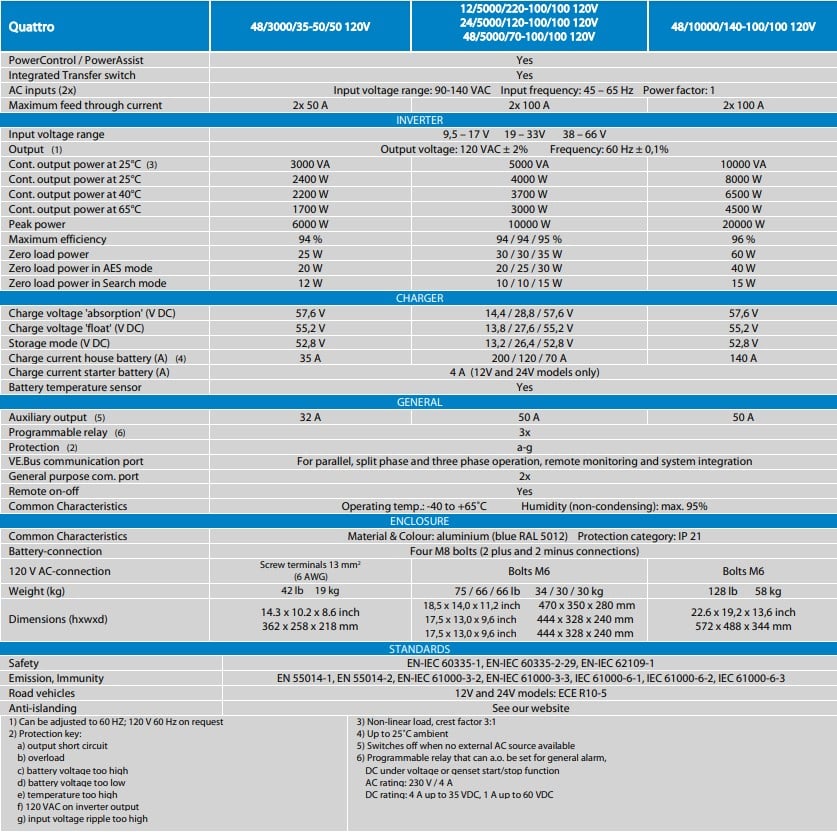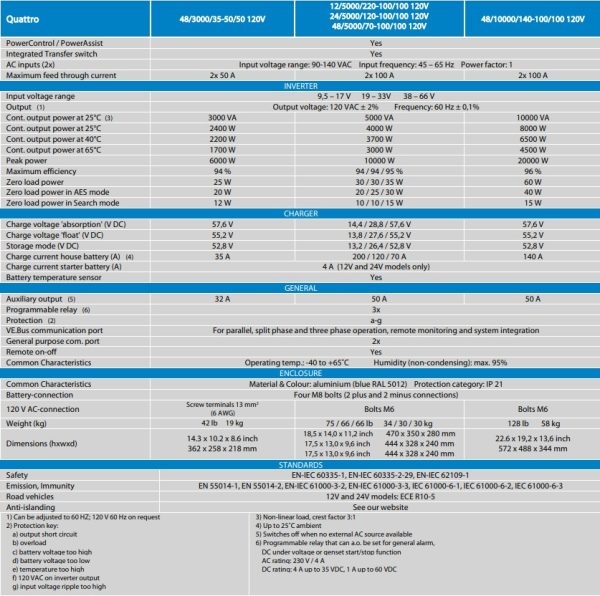 Victron Quattro 5000VA 12-Volt Pure Sine Wave Inverter 220 amp Battery Charger
The Victron Quattro 12V 5000VA 220 amp is a combined 120V inverter and battery charger

Its integrated high speed auto transfer switch ensures that all of your loads continue without interruption if the grid goes down

The Quattro features Power Assist, which allows it to operate on limited shore power or generator power without overloading the circuit

Two Quattros can be configured to provide split phase output, and three can be configured for 3-phase output. Additionally, four sets of three can be paralleled for a total output of 120kVA (96kWH), with a total of 1600 amps of charging capability

The Quattro features two independent AC In connections, and an integrated transfer switch that will automatically select the active source

Great for off-grid cabins and larger mobile applications, like 5th wheels and motorhomes

Incorrect installation can be hazardous; please consult a licensed professional and follow all applicable electrical codes during installation
Which inverter is right for you? Visit our inverter calculator for a personalized recommendation.
The Victron Quattro 12V 5000VA 220 amp inverter charger is the perfect solution for those needing more power. Two units can be connected for split phase operations, three units can be connected for 3 phase operations, and up to four sets of three can be paralleled for a total output of 120kVA (96kWH). With its true sine wave technology, you can rest easy knowing that your sensitive electronics are being supplied with the cleanest energy possible.
The Quattro features two AC inputs, and will automatically select the active source utilizing its internal transfer switch.
With its Power Assist, the inverter charger can be programmed to limit its current draw. With correct programming this can be very helpful when operating off of limited shore power or when connected to a generator. It can eliminate generator overload conditions as well as reduce tripped breakers when connected to shore power that is limited.
The Victron Quattro 12V is a great option for anyone needing more power whether it's in an off-grid cabin, 5th wheel, or motorhome. It has the ability to power larger loads for longer without constantly operating at its peak output, ultimately increasing the life of the unit.
Note: In order to program Victron inverter/chargers to work with your particular batteries, you must have an MK3-USB interface, or GX device, such as the Cerbo GX.
| | |
| --- | --- |
| Weight | 70.3 lbs |
| Dimensions | 21.3 × 18.5 × 15 in |